English Drinks Company Irish Coffee
25ml Orangery Gin
25ml Kahlua (or any Coffee Liqueur)
50ml Fresh Espresso
¼ tsp cinnamon
½ tsp white sugar (10ml Simple Sugar Syrup)
Slow wet shake and fine strain, allow to settle then add float
Double Cream Float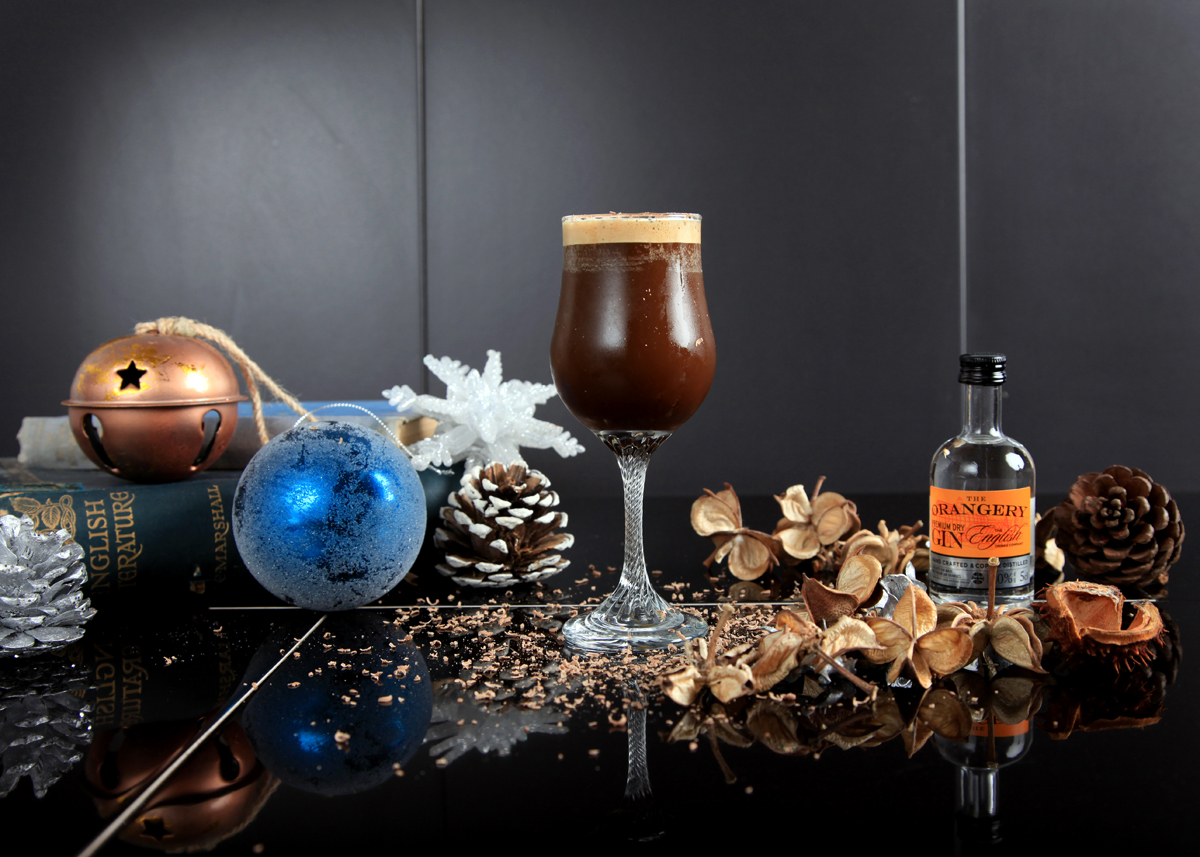 English Drinks Company Cucumber Martini
40ml Cucumber Gin
30ml Noilly Pratt Dry Vermouth
Stir down vermouth over ice, discard a relative amount depending on how wet or dry you like your martini (discard more if dry, discard less if wet). Add gin and more ice cubes, stir down again and strain into a chilled martini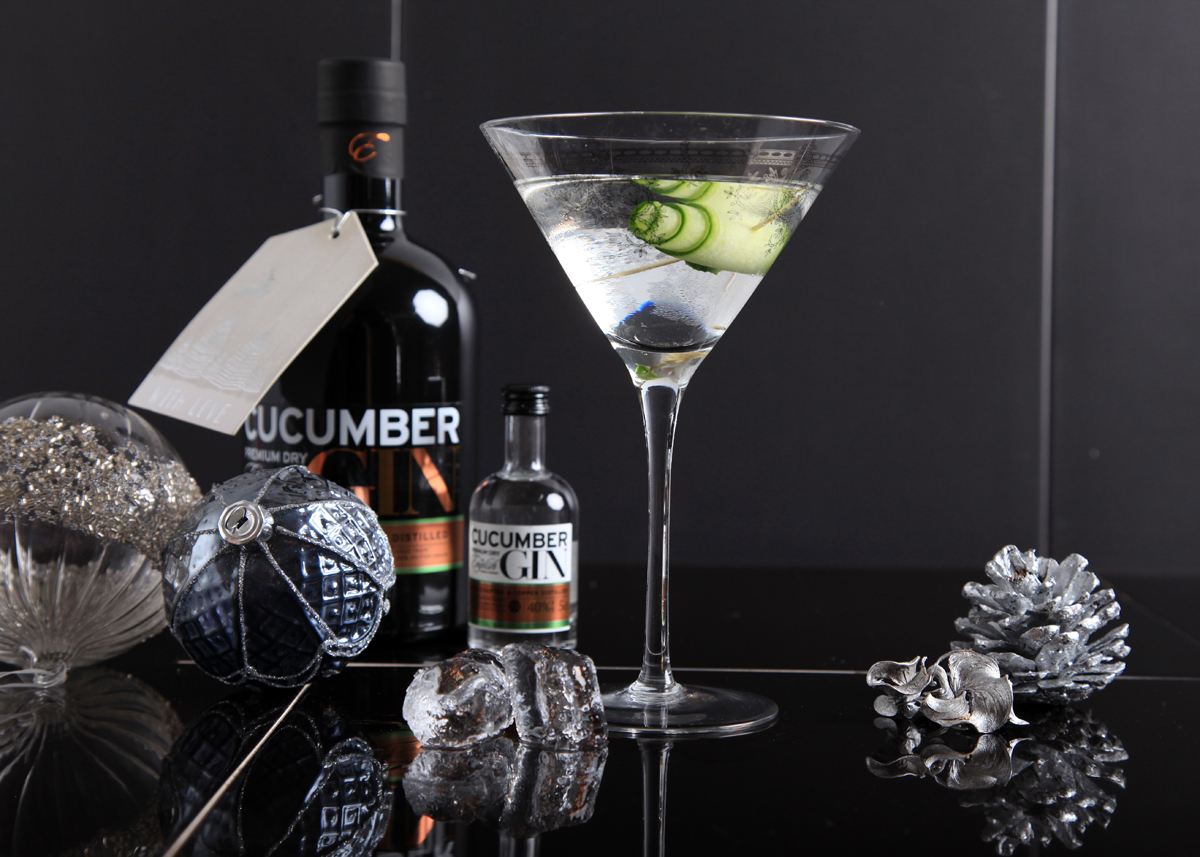 English Drinks Company Dry Negroni
40ml Orangery Gin
25ml Campari
25ml Sweet Vermouth
Swift stir down and flame orange twist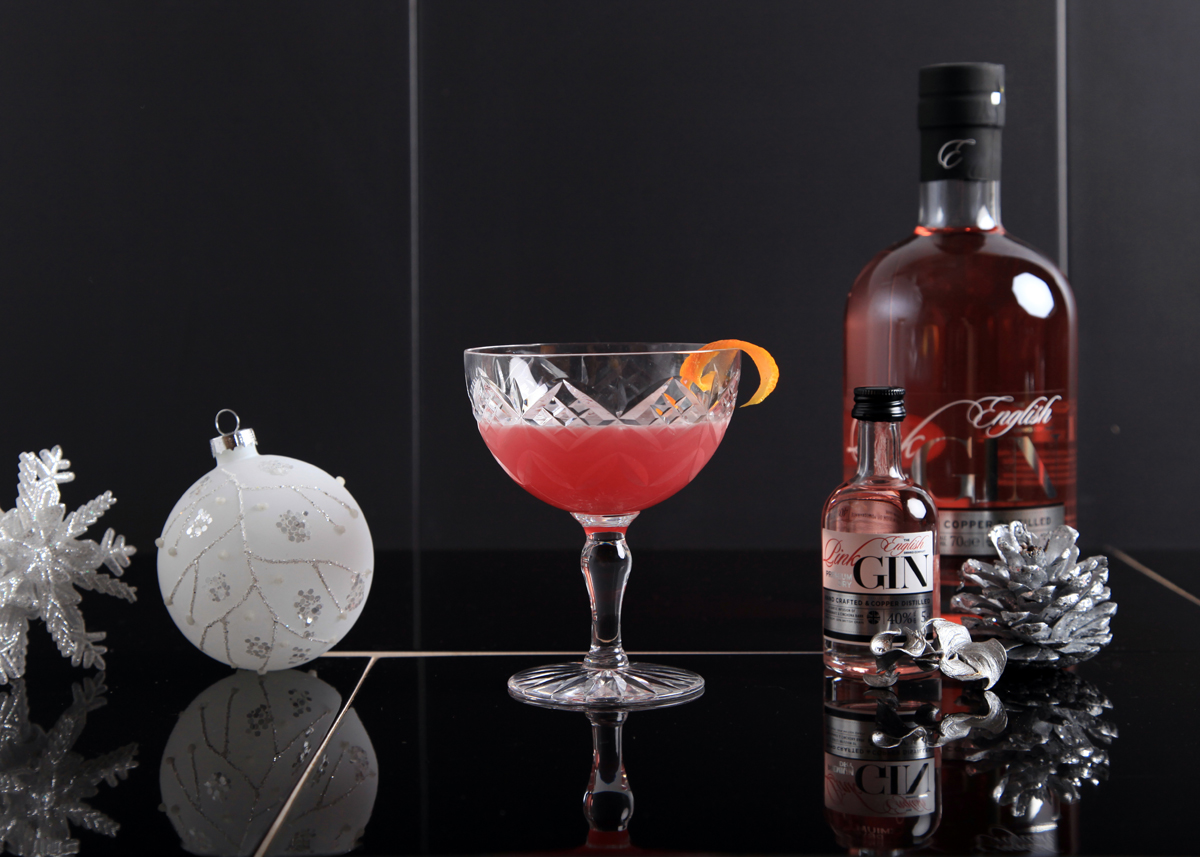 English Drinks Company Cosmopolitan
30ml Pink Gin
20ml Orangery Gin
10ml Cointreau
30ml Cranberry Juice
Dash (5-10ml) Lime Juice
Dash (5-10ml) Sugar Syrup
Wet Shake and fine strain
The English Drinks Company Long Island
15ml Lime Tree Gin
15ml Lemon Grove Gin
15ml Orangery Gin
15ml Lemon Juice
15ml Rich Sugar Syrup (2:1)
Shake all Ingredients
Add Coca-Cola Float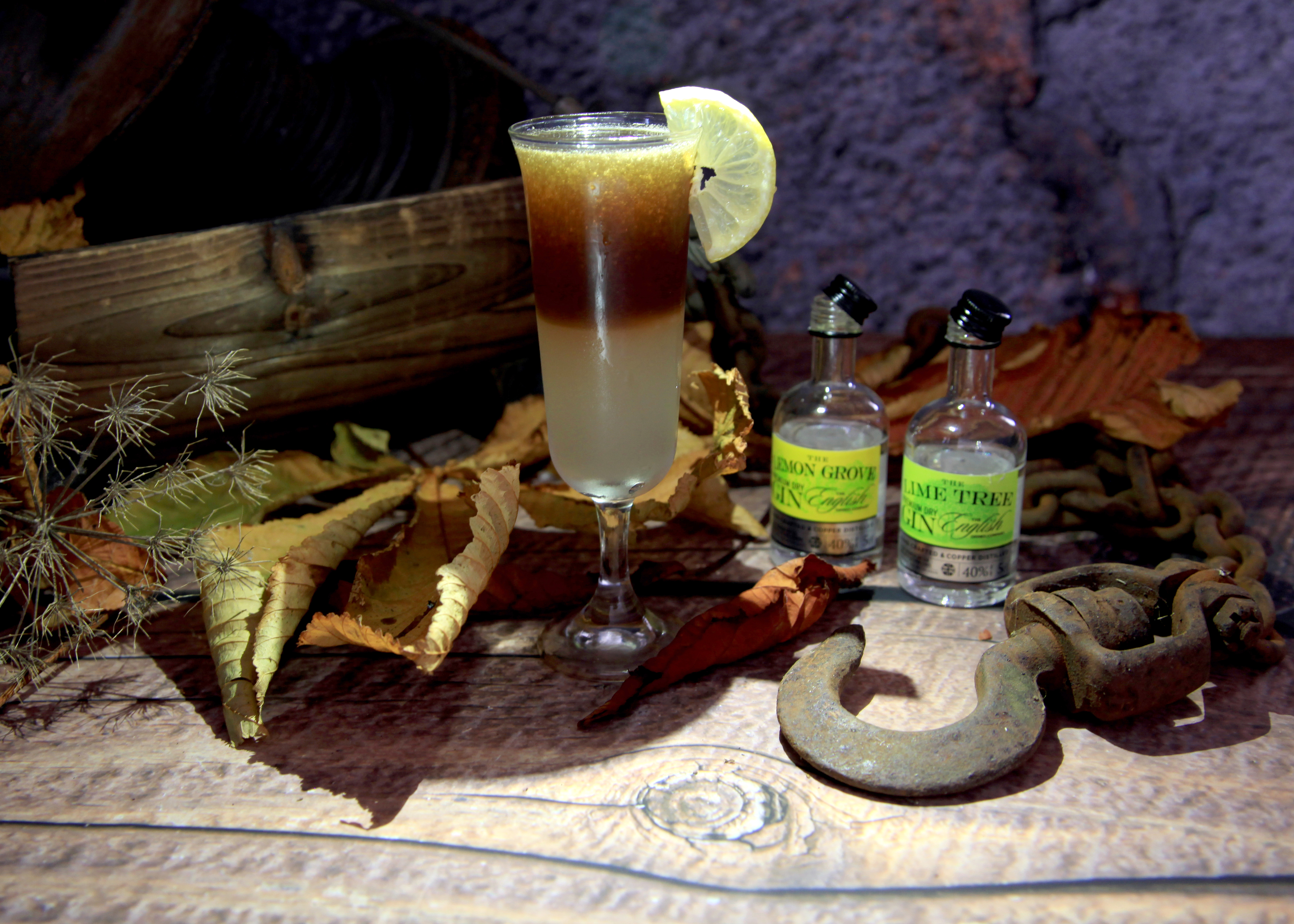 The English Nightcap
50ml Orangery Gin
30ml cocoa powder
½ shot of espresso
25ml half and half
Garnish with cinnamon (Either light on top or as a crusta)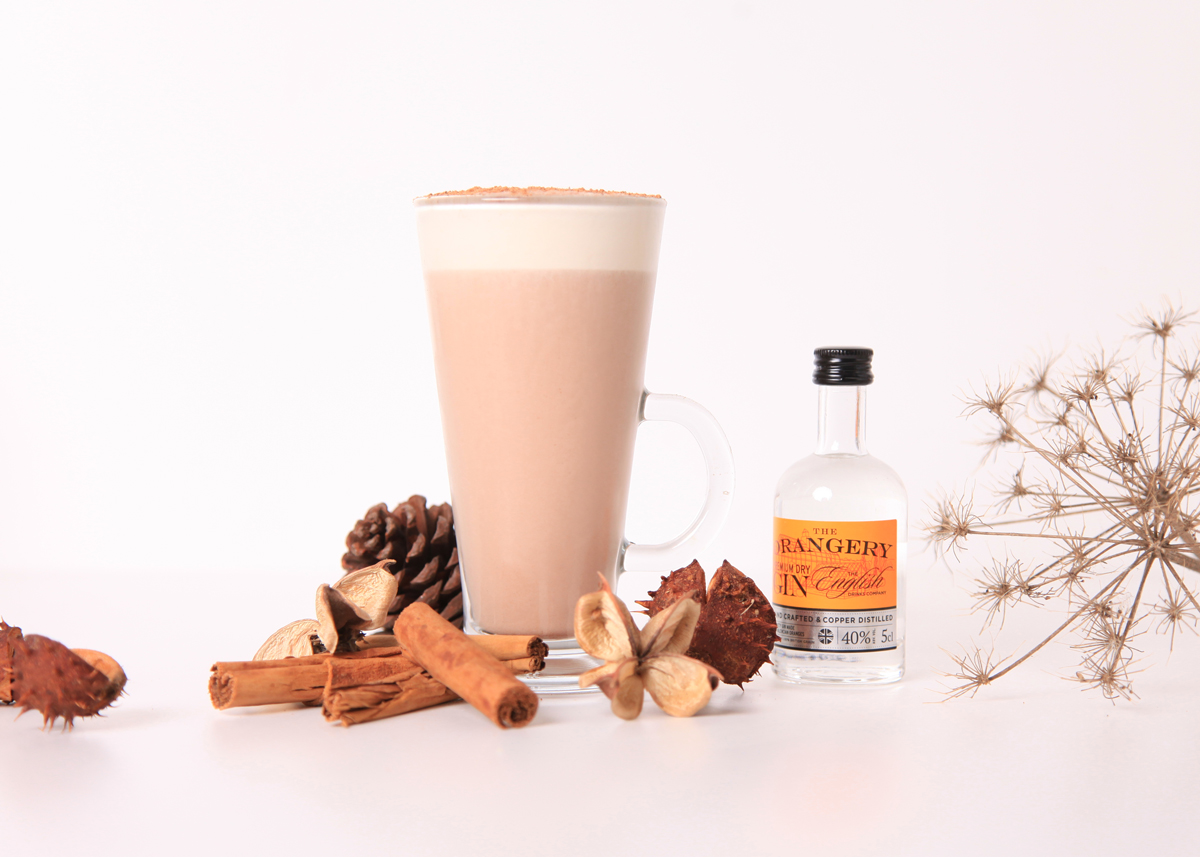 Flying Grasshopper
15ml Crème de Menthe
15ml Crème de Cacao
25ml Orangery Gin
50ml Half/Half
Dry Shake then Wet shake with a lot of ice to create foam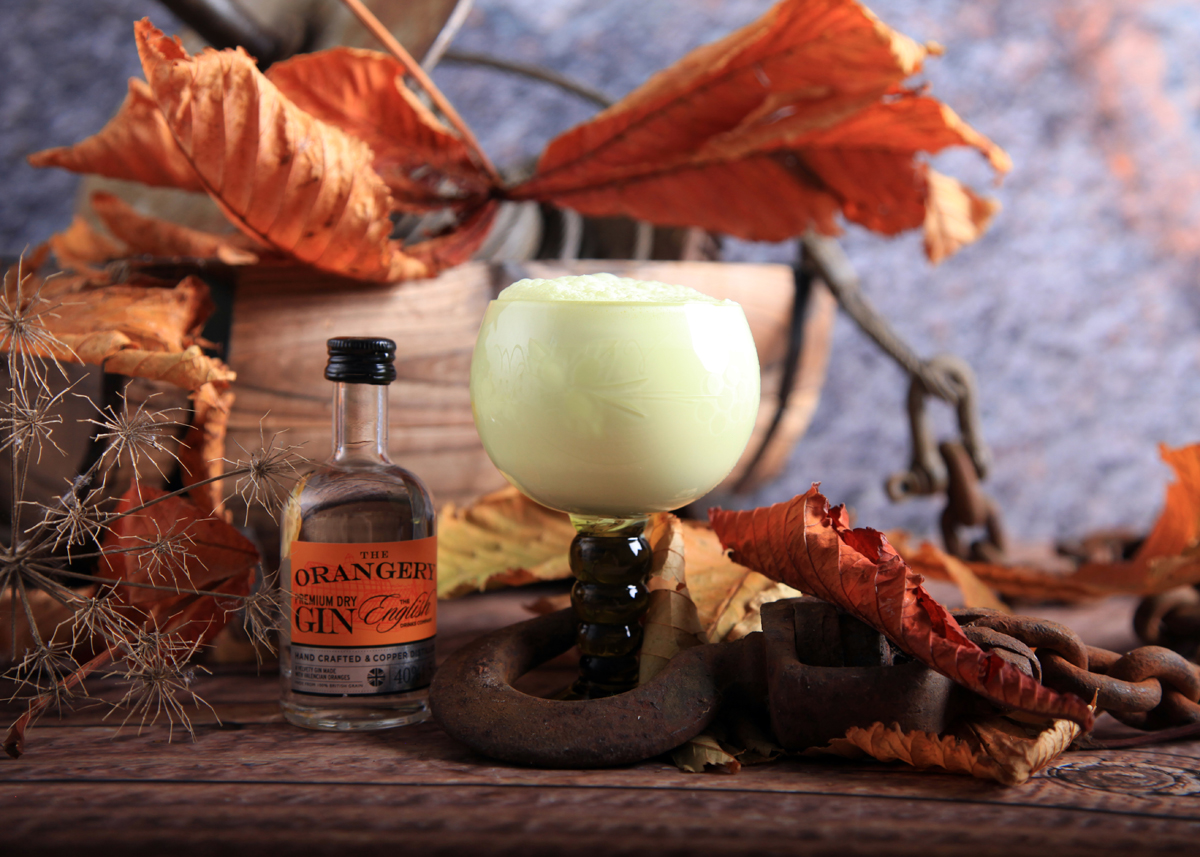 The English Drinks Company Collins
• 50ml Lemon Gin
• 20ml Fresh Pink Grapefruit juice
• 10ml Fresh Squeezed Lemon Juice
• 10ml Gomme Sugar Syrup
• Topped with Soda
Garnish with grapefruit or Lemon wheel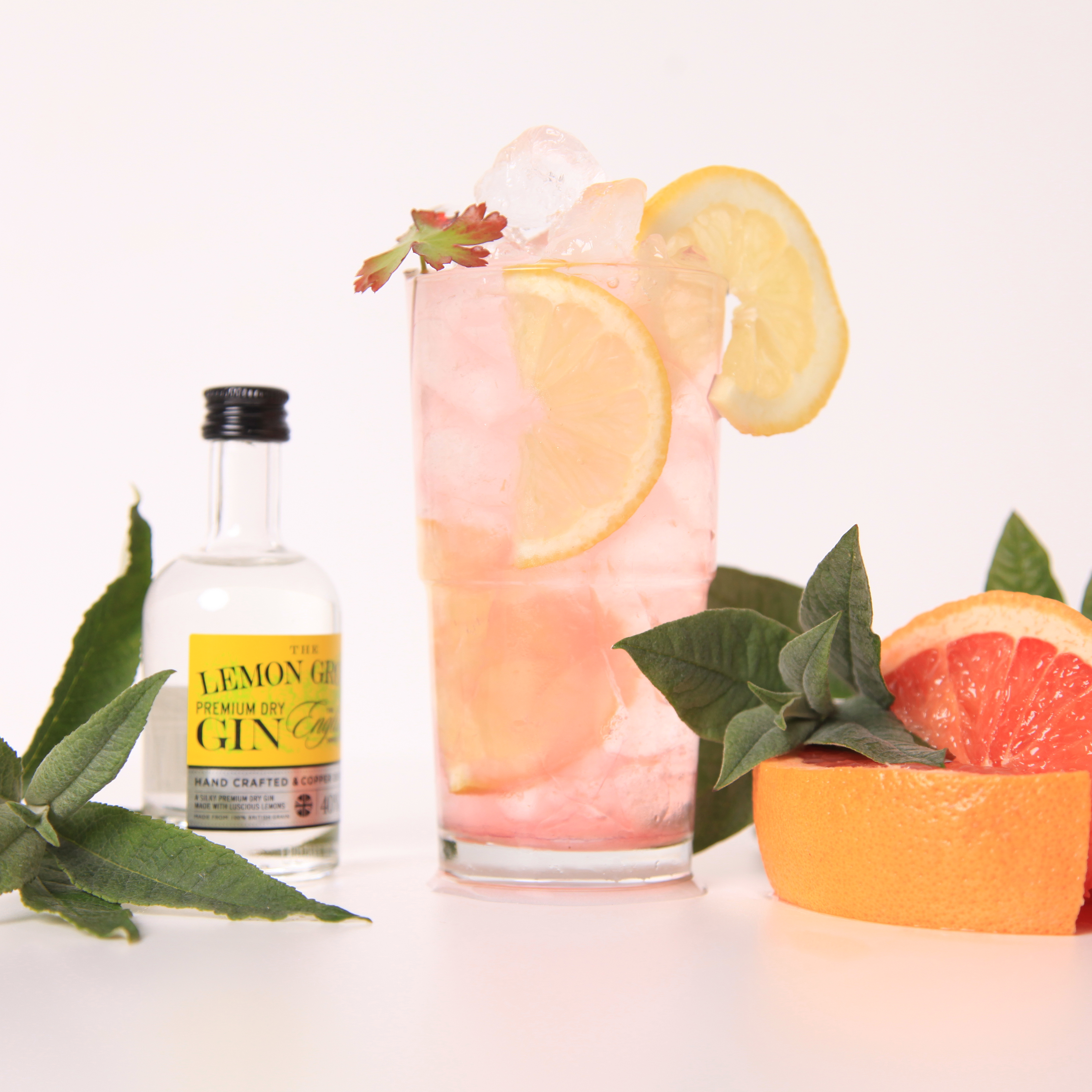 A Very English Clover Club
• 1 whole egg white
• 50ml Pink Gin
• 10ml Lemon Juice
• 10ml Fine white sugar
• 4 raspberries (add during wet shake and do not muddle)
Garnish with Raspberry bitters & edible flowers
DRY & WET SHAKE WHEN USING EGG WHITES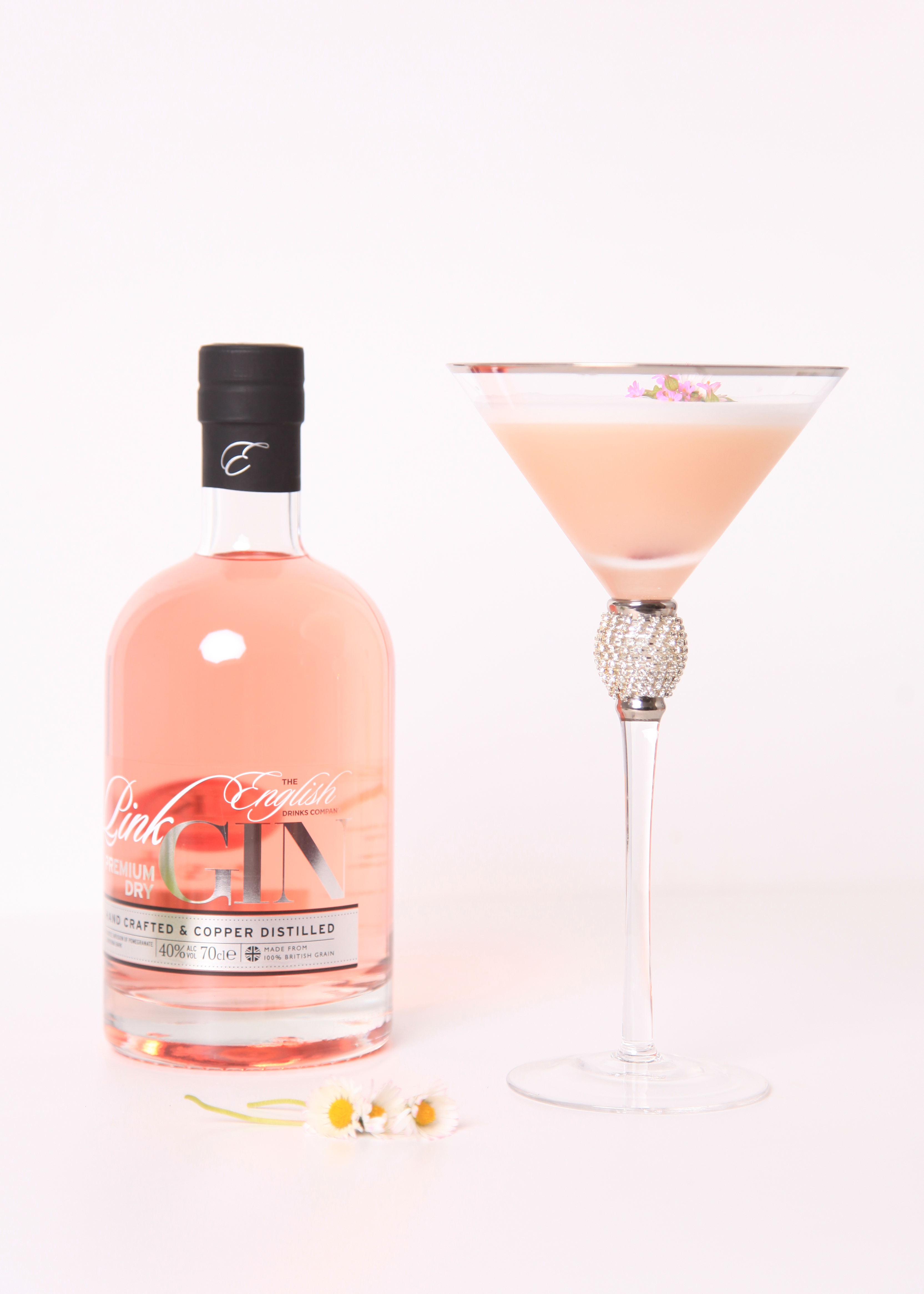 An English Sunrise
• 25ml Orangery Gin
• 25ml Pink Gin
• 25ml Passionfruit puree
• 15ml Lime juice
• 60ml Orange juice
• 10ml Sugar Syrup
Garnish with a Pink Grapefruit wheel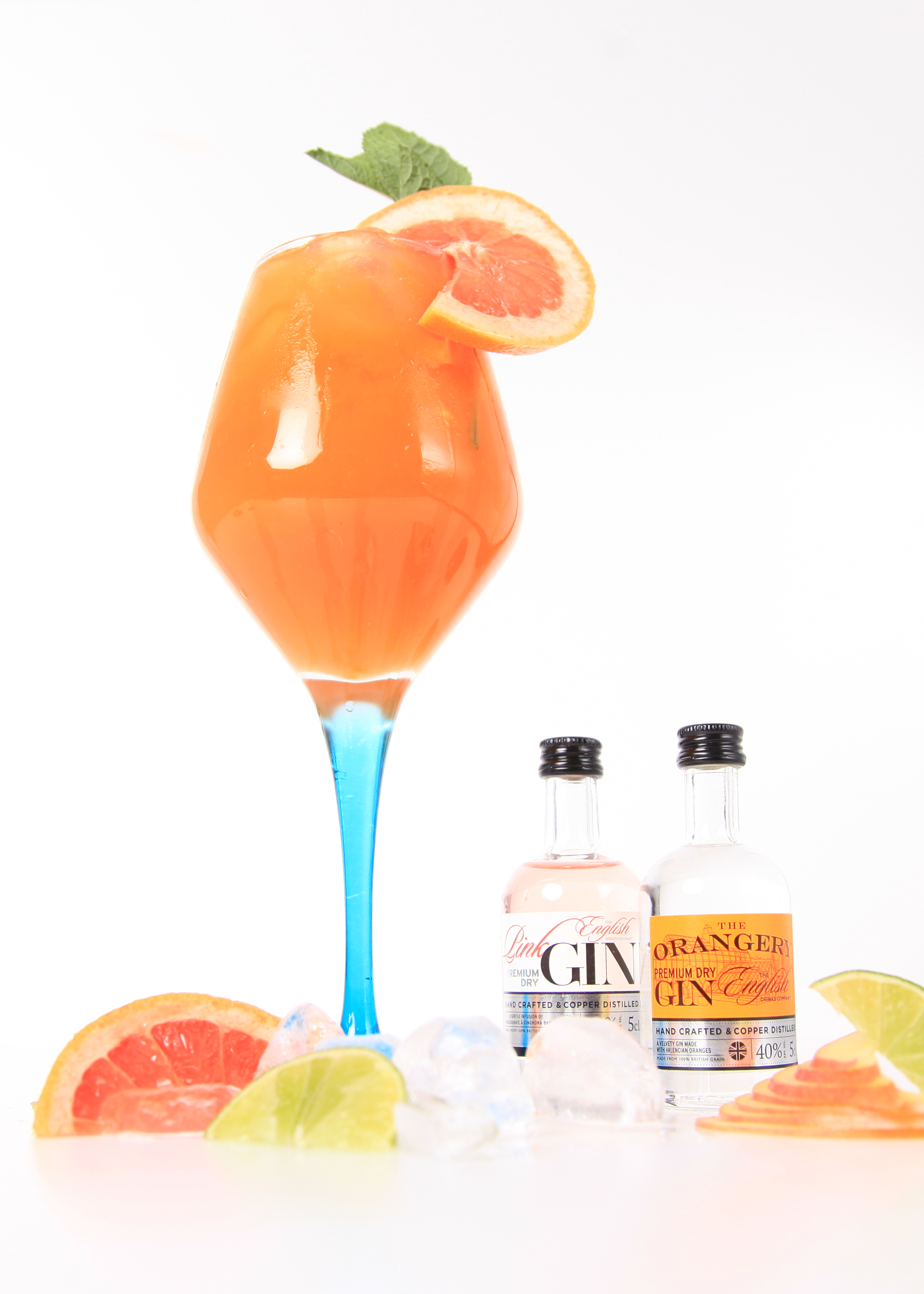 The English Gin Colada
• 50ml Orangery gin
• 50ml half & half
• 20ml rich coconut syrup
• 60ml unsweetened pineapple juice
Garnish with a pineapple leaf over cubed ice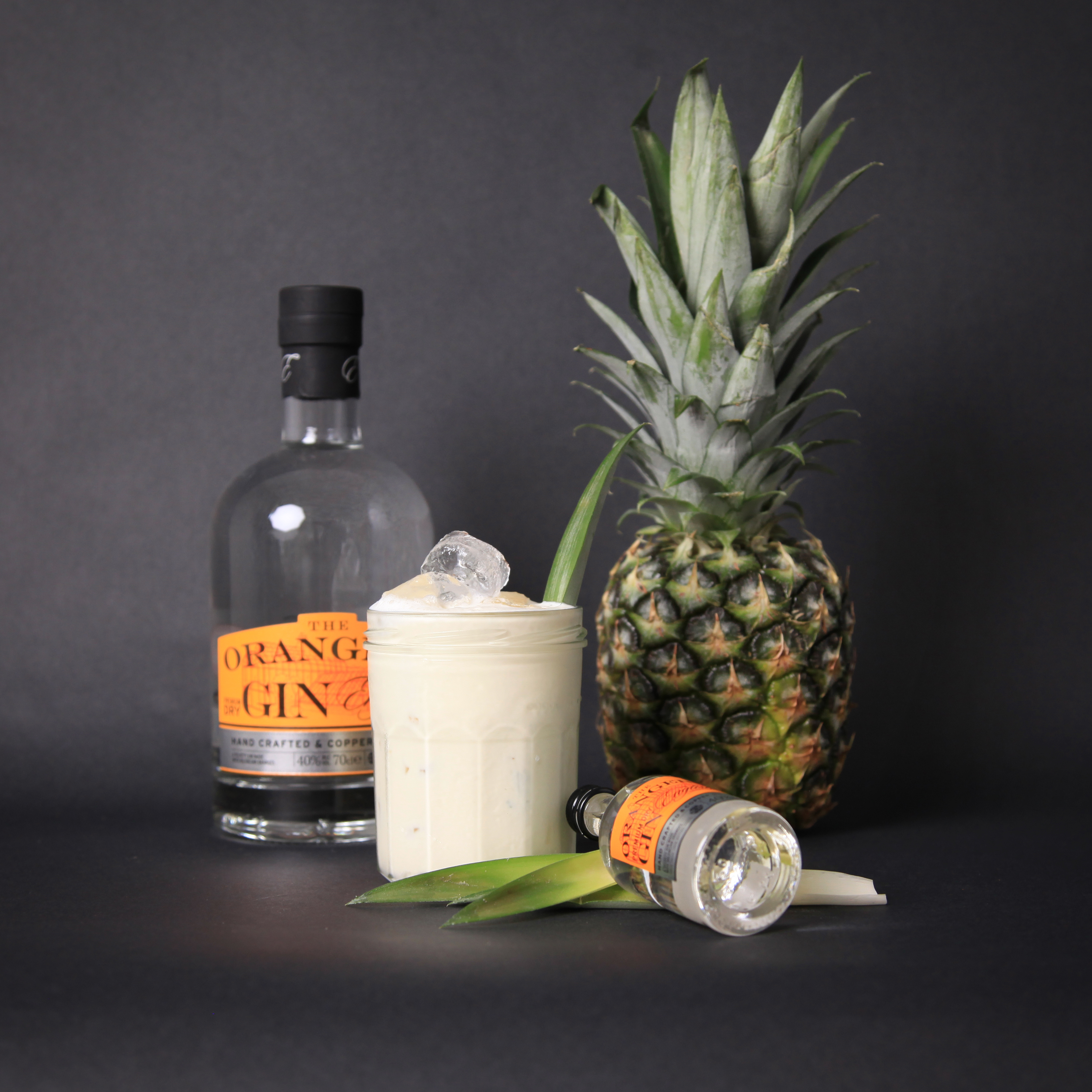 The English Bloody Marian
• 50ml Cucumber Gin
• 200ml Tomato Juice
• 15ml Lemon Juice
• 4 twists of ground black pepper
• 8 dashes of Tabasco
• Pinch of Dried Chilli flakes
• 2 dashes of Worcester sauce
Garnish with Cayenne pepper crusta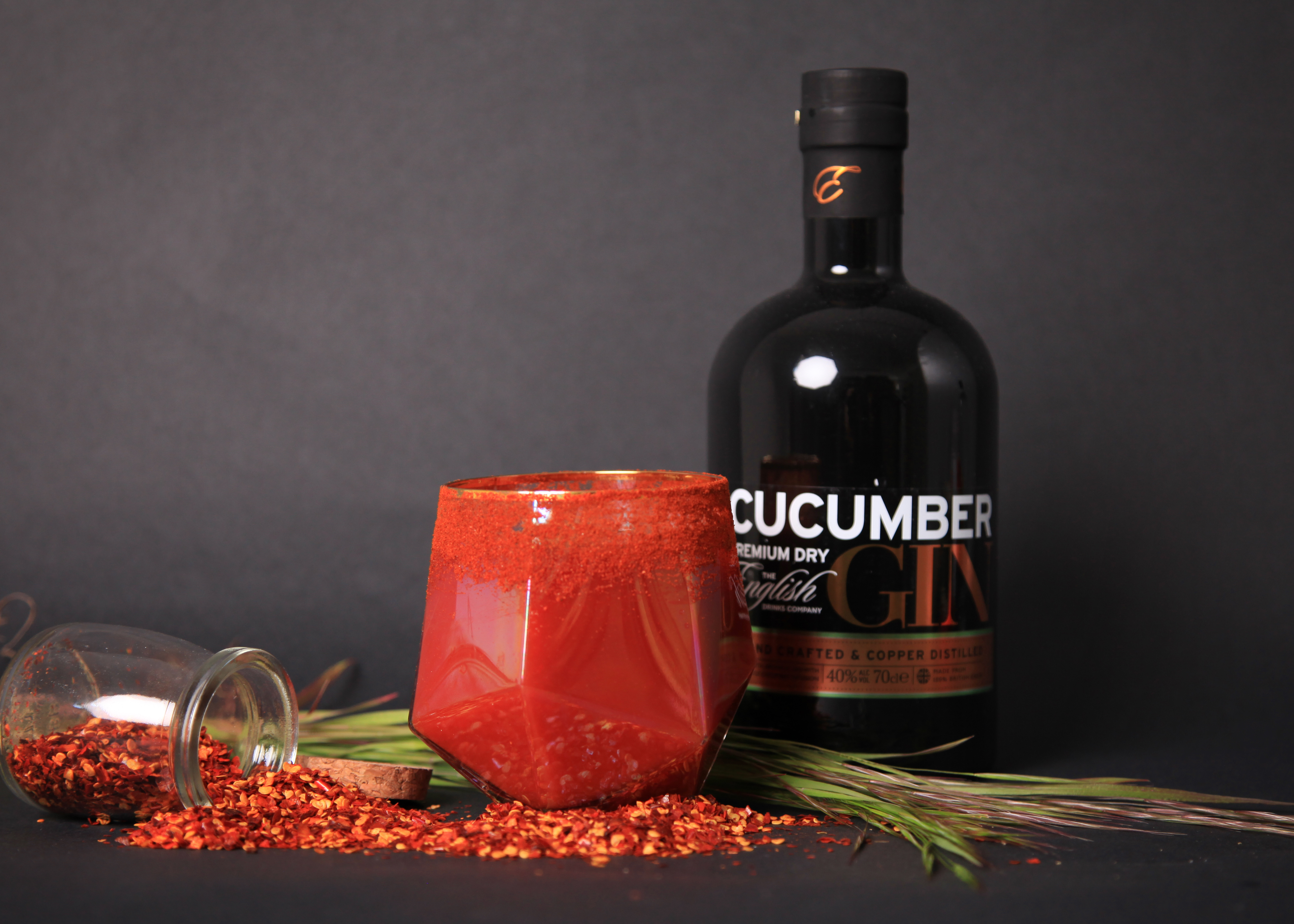 The English Lime Gin Mojito
• 50ml Lime Gin
• 6-8 mint leaves
• 20ml Fresh Lime Juice
• 10ml Gomme Sugar Syrup
• Crushed Ice & Soda
Garnish with a Mint sprig and lime wheel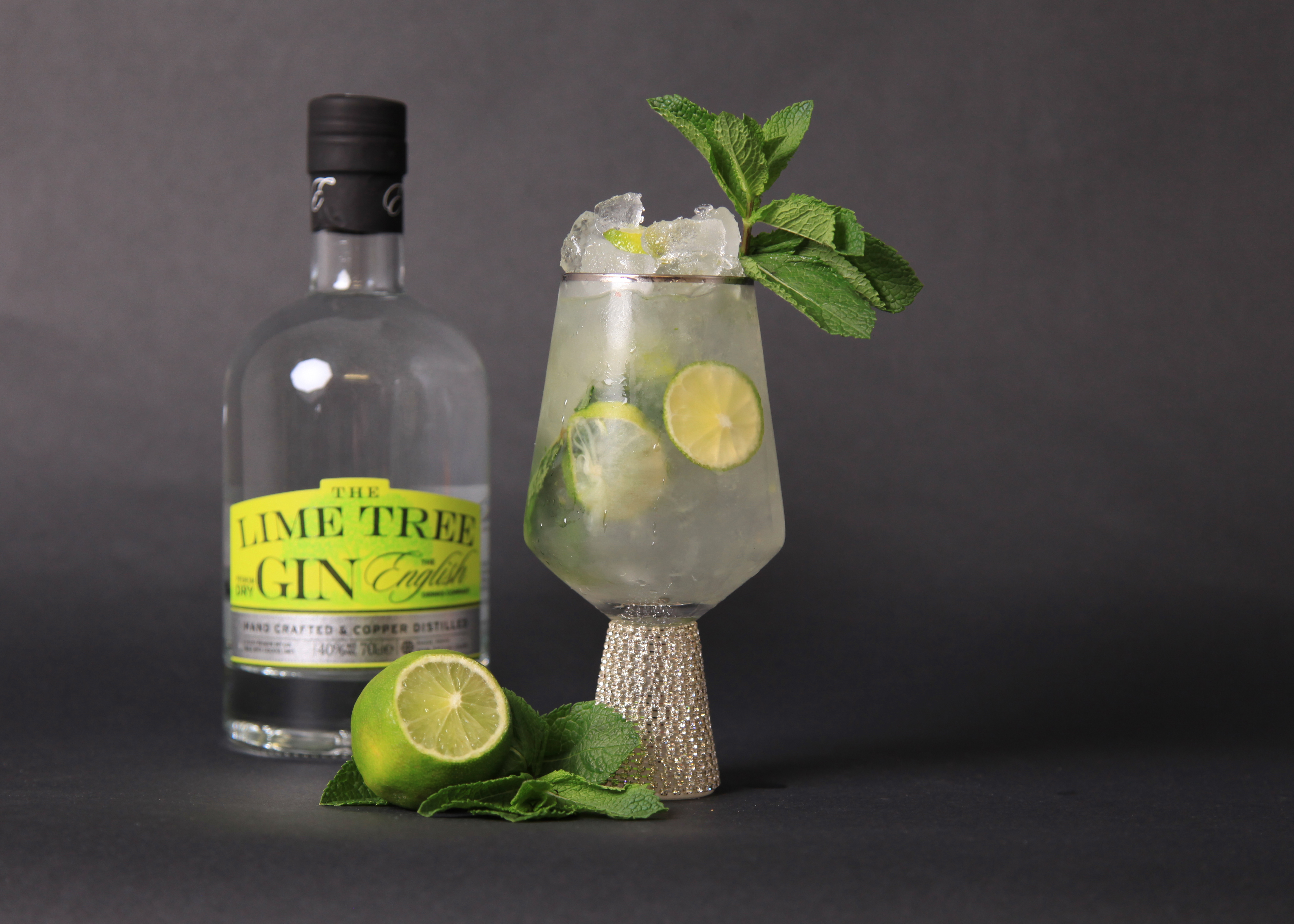 Tom Collins
50ml Lemon Grove Gin
10ml sugar syrup
125ml chilled soda water
Fill a highball glass with ice – pour over the gin and syrup and stir well. Add the soda water and garnish with lemon.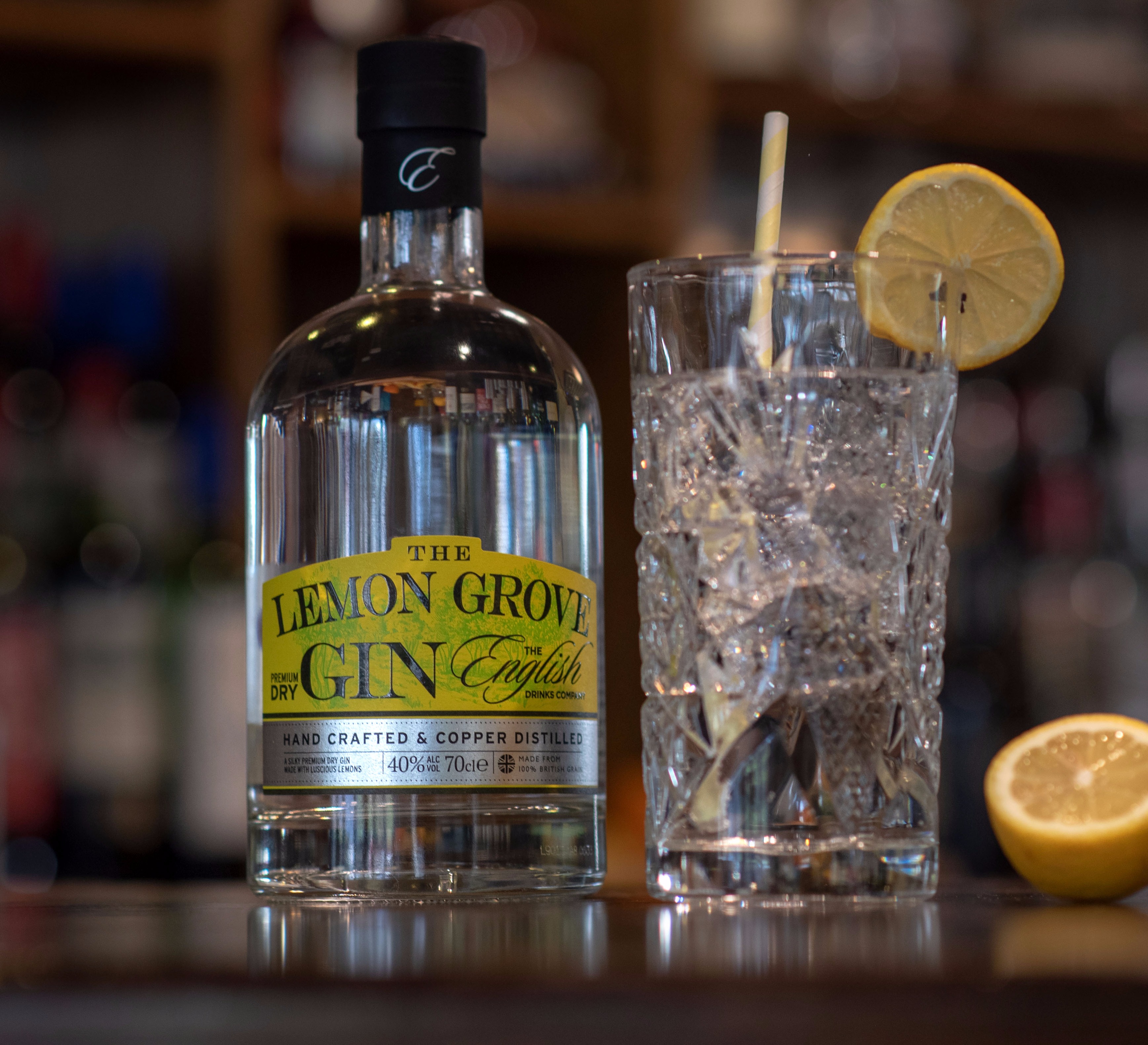 Bees Knees – a sweet, citrus cocktail harking back to 1920's prohibition in the USA.
50ml Lemon Grove Gin
2 tsps Honey
40ml fresh orange juice
Add the gin and honey to a shaker and stir well until the honey has dissolved. Add the orange juice and shake well. Strain into a martini glass, or in a tumbler over the rocks. Garnish with a twist of orange.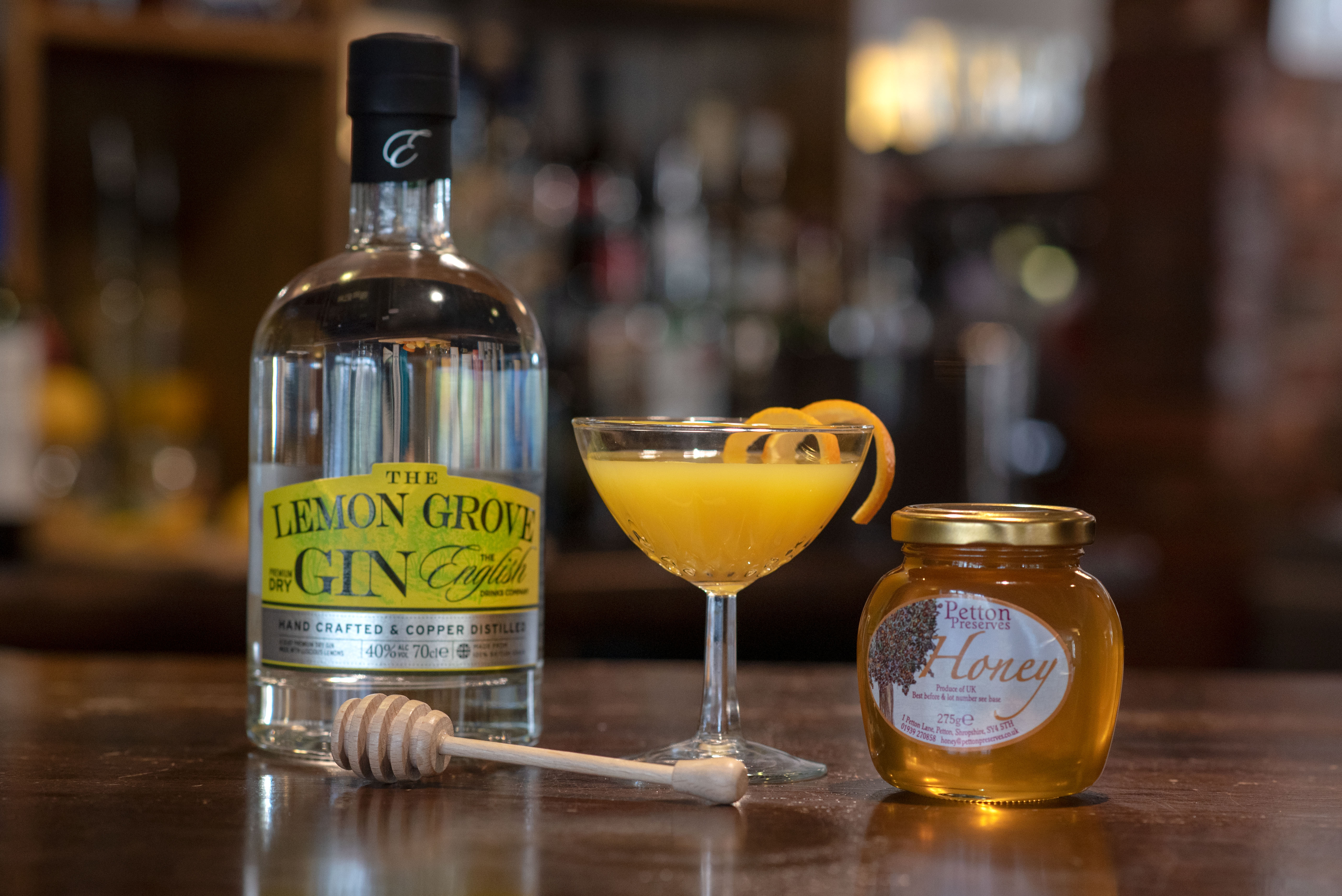 Miami Iced Tea
25ml vodka
25ml light rum
25ml Orangery gin
25ml peach schnapps
25ml triple sec
25ml sour mix
25ml cranberry juice
Splash of lemon-lime soda
Pour all ingredients into a high ball glass and stir.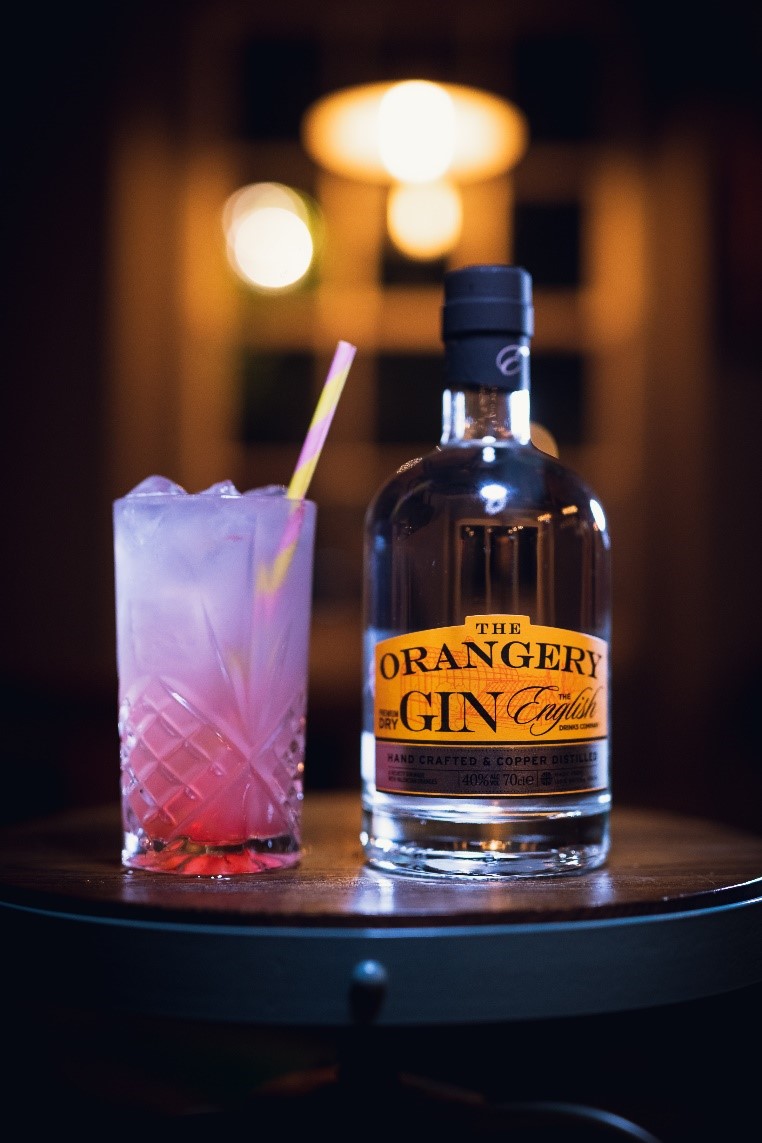 Hot Chai Tea Toddy
50ml Orangery Gin
50ml Orange juice
1 Cup of Chai Tea
12ml Lemon Juice
1 spoonful of Honey
Cinnamon Stick
Warm the orange juice, cinnamon and honey in a pan.
Brew a cup of chai tea.
Pour the tea, orange juice mixture and gin into a mug.
Stir with the cinnamon stick and enjoy in front of a log fire.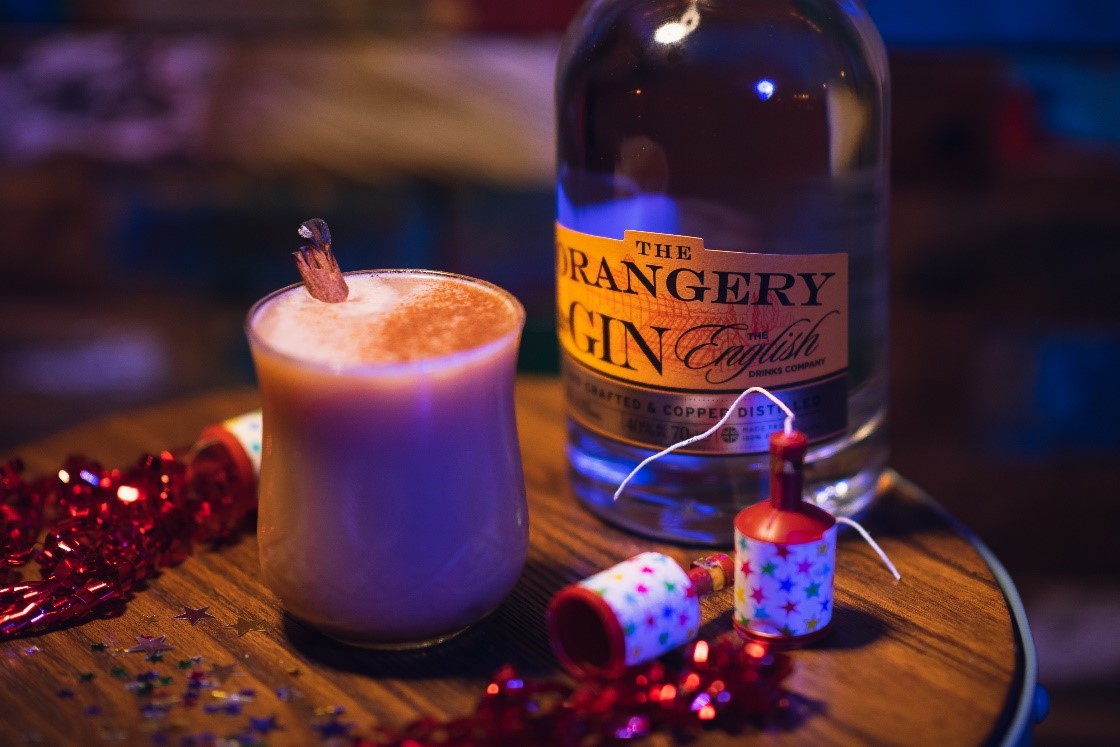 Winter Warmer
60ml Orangery Gin
30ml Warmed Mulled Wine
2 dashes of orange bitters
Garnish with candied orange peel
Mix all ingredients together and then garnish with the candied peel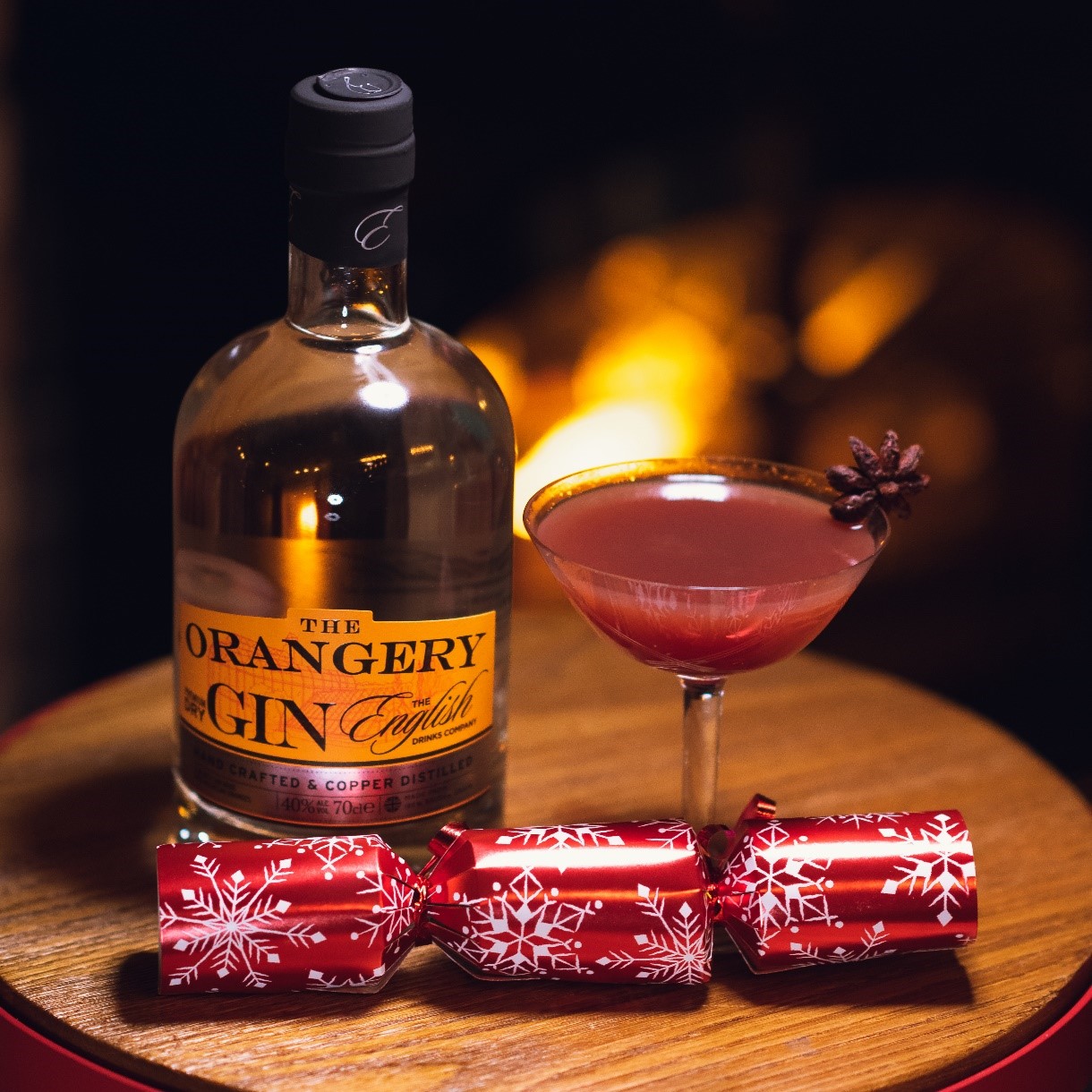 Orangey Negroni
25ml Orangery Gin
25ml Rosso Vermouth
25ml Campari
Garnish with a zest of orange and a piece of peel
Shake well with ice and strain into a chilled cocktail glass, garnish with a zest of orange and a twist of peel.
Simple Orange Cocktail
50ml of English Drinks Company's Orangery gin
100ml of Mediterranean tonic
Crushed ice
A slither of orange peel
Method
1. Add the crushed ice to a tall glass.
2. Pour in one 50 ml measure of The English Drinks Companies orangery gin
3. Cover with 100 ml of Mediterranean tonic
4. Add a slither of orange peel and enjoy.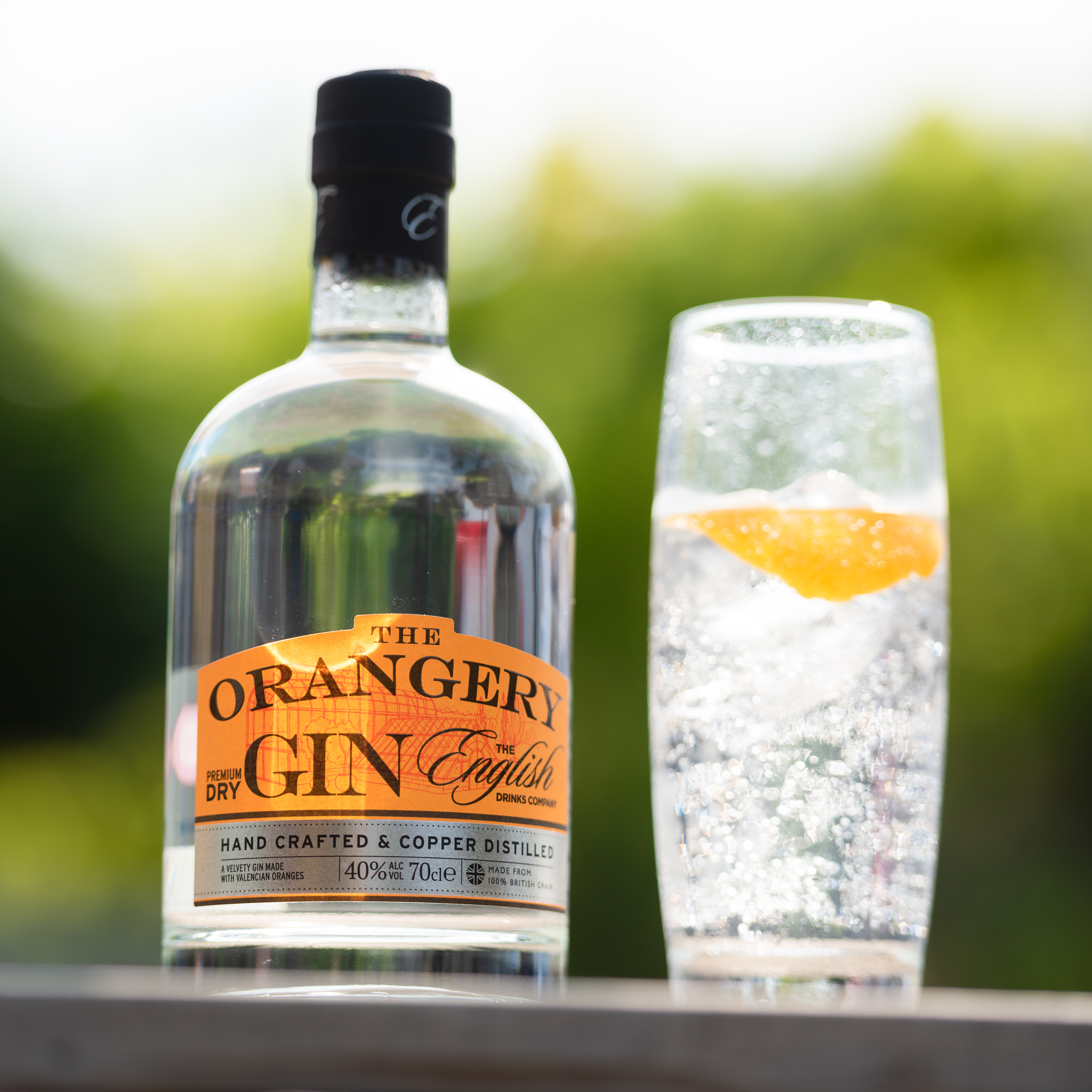 The Strapple
Muddle Strawberries x 8
50ml Cucumber gin
Juice of half a lime
50ml Pineapple juice
Shake all of the above then top up with 100ml Cider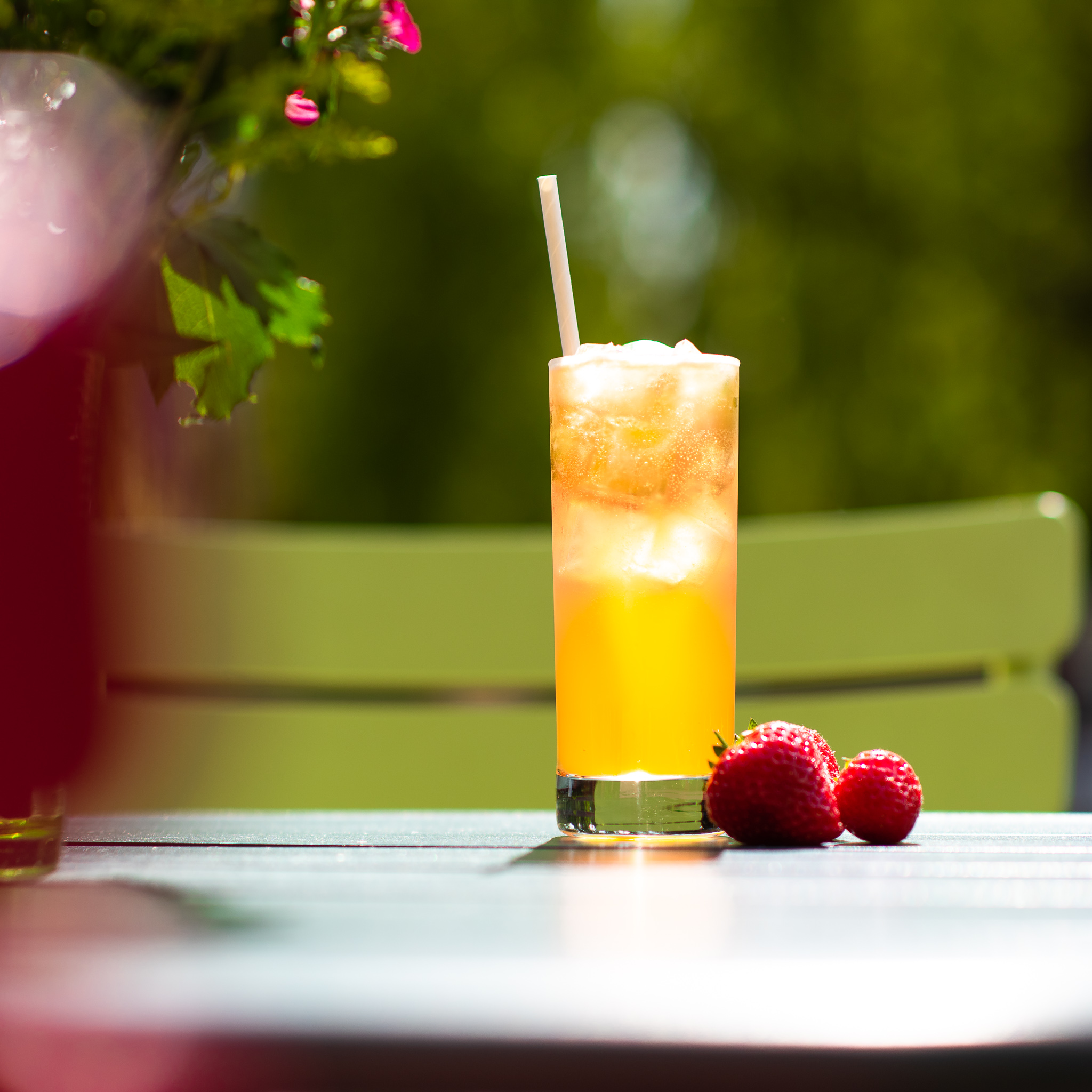 Ranging Pink
Pink Gin Martini
10ml Dry Vermouth
75ml Pink gin
Stir as slowly as you have the patience for, and garnish with cucumber slither and/ or frozen pomegranate seeds.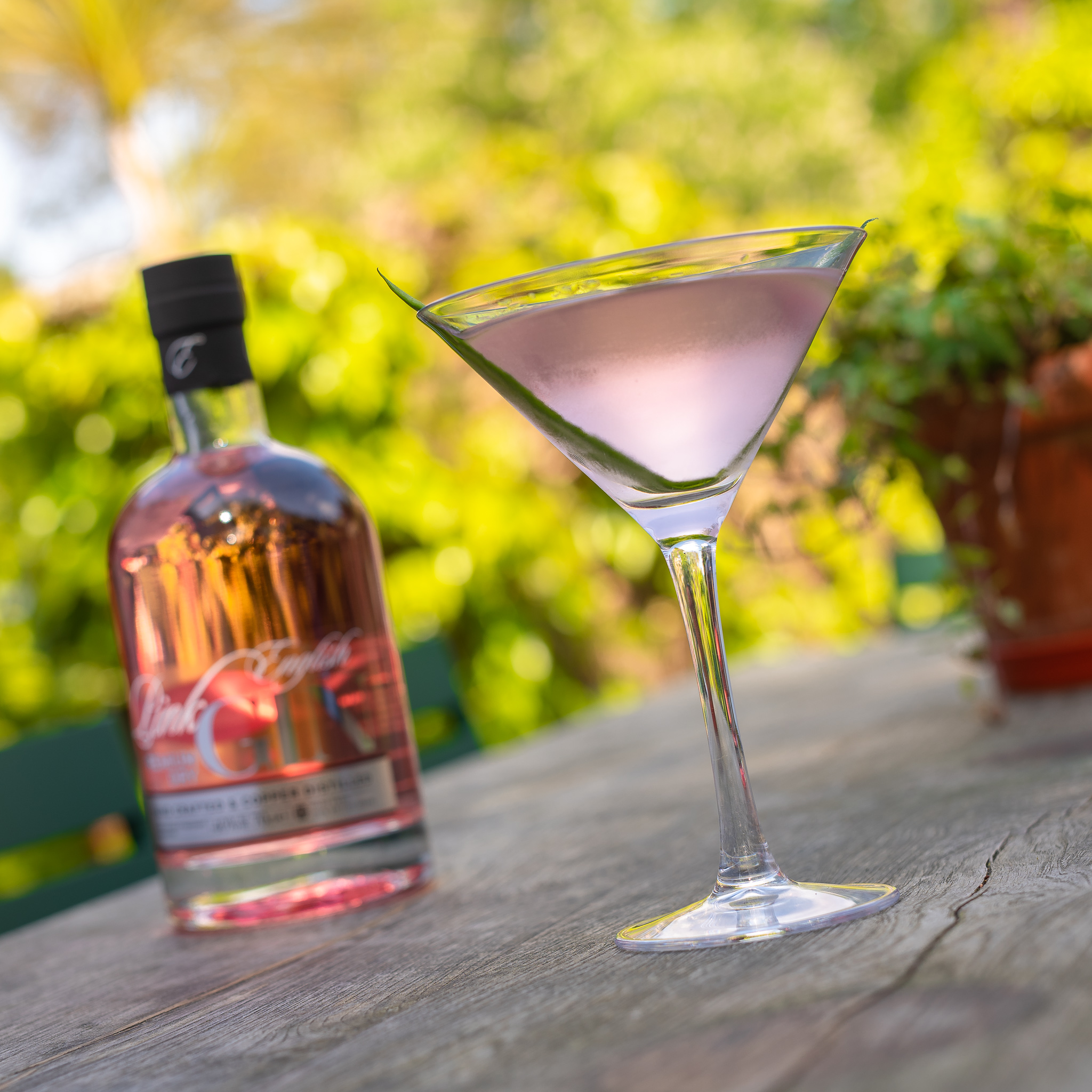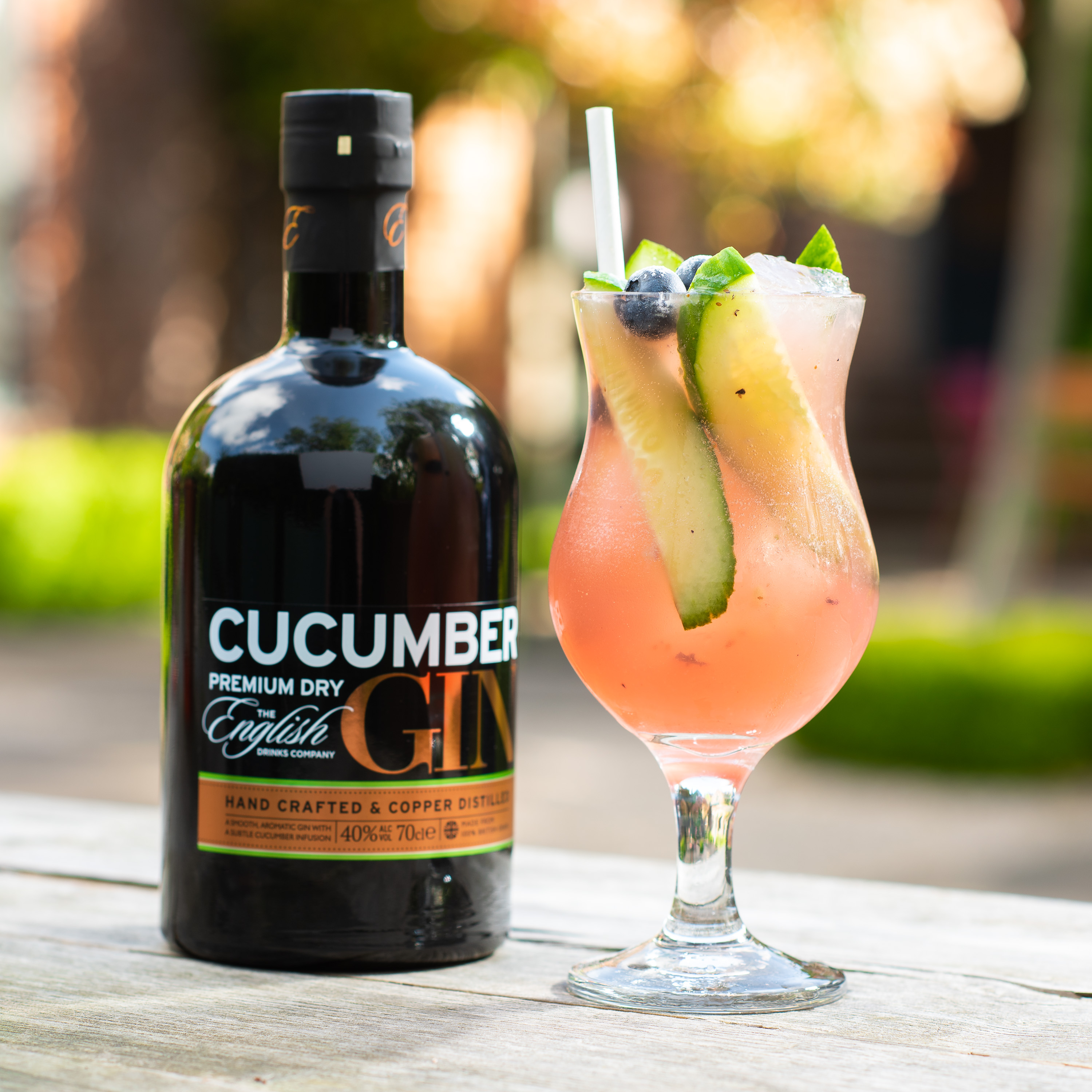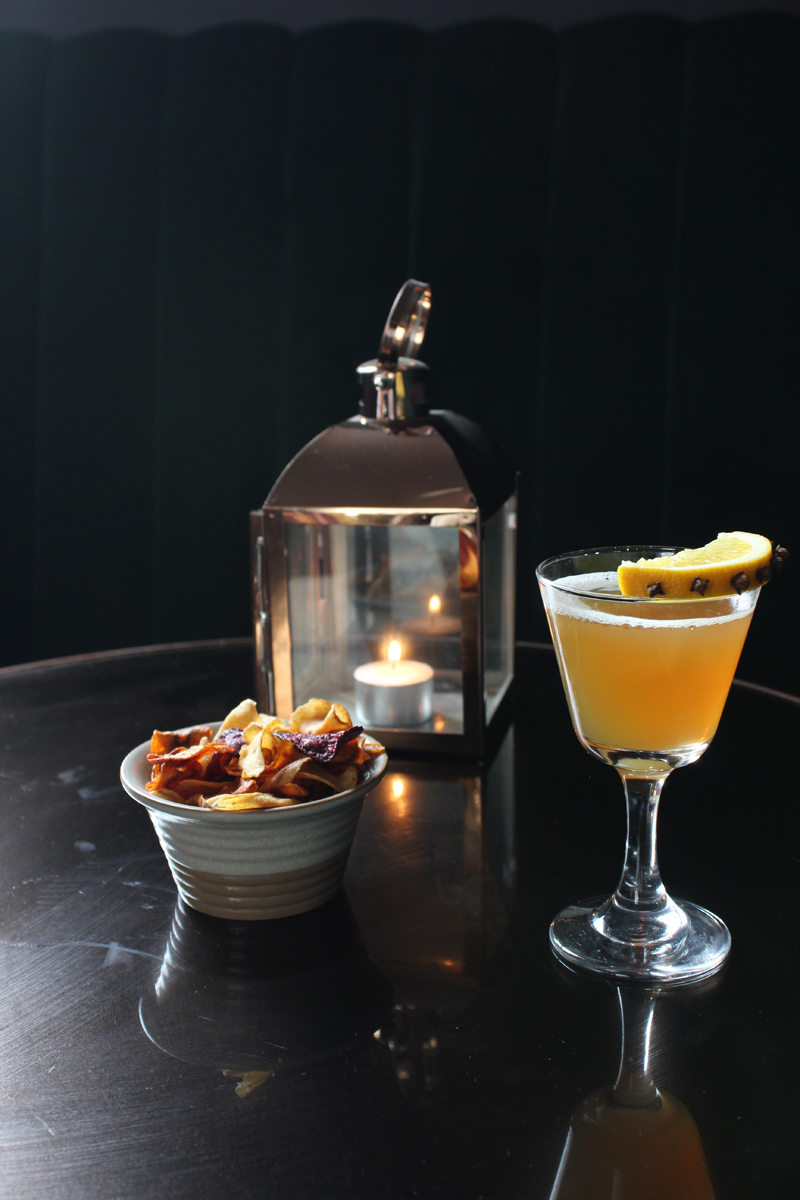 The Clover Club
20ml Lime Juice
25ml Spiced rum
25ml The English Drinks Company Cucumber gin
10ml sugar syrup
5ml Sweet Potato toffee apple
Add all the ingredients into a saucepan and then aerate with an aerator until warm and then pour into the glass of your choice.
Cucumber Fizz
35ml The English Drinks Company Cucumber gin
15ml Elderflower cordial
15ml Lemon juice
Top up with Prosecco
Add the cucumber gin, elderflower and lemon juice into a cocktail mixer and mix. Add a long ribbon of cucumber to your glass and pour in contents of a cocktail shaker and then top up the glass with Prosecco and add a slither of lemon peel to serve.